THE ROLE OF INFORMATION AND COMMUNICATION TECHNOLOGY (ICT) TO ALLEVIATE POVERTY IN BANGLADESH
Md. Shahnur Azad Chowdhury

International Islamic University Chittagong, Bangladesh

Mustafa Manir Chowdhury

International Islamic University Chittagong, Bangladesh

Nazneen Jahan Chowdhury

International Islamic University Chittagong, Bangladesh

Mohammad Emdad Hossain

International Islamic University Chittagong, Bangladesh

Sayed Md. Hashib Ahsan

International Islamic University Chittagong, Bangladesh
Keywords:
ICT, Poverty, Alleviation, UISC.
Abstract
Poverty is one of the problems in third-world countries like Bangladesh. There has been an ongoing battle against challenging living conditions-overcrowding, floods, deforestation, erosion, soil depletion, and natural calamities. Quite a lot of programs have been tried since the independence of Bangladesh in 1971, and to tell the truth, most have failed. Each time an anti-poverty program fails, it gives more fuel to the richer class to argue that there's no point in trying to help the poor. However, this is an age of information technology. Almost all of the spheres of human life are contributed by Information technology. Information Technology can change the fate of the poor by helping them to be with the current time and happenings by ensuring their capabilities to access information. The Government of Bangladesh also realizes the importance of the issue, and recently they concentrated on transforming the government services to digitize. As one of the initiatives to empower the poor with information, GOB has launched Union Information and Service Centre (UISC) in all of the Union councils of the country. The private sector started digitization of operations earlier than the government. Now, as the government has also initiated the process, the journey will get a smooth and parallel speed to develop the socio-economic condition of the poor of the country.  This paper attempts to explore the capabilities of ICT to reduce poverty in Bangladesh. The study will also try to suggest how ICT can be better used to eradicate poverty. ICT is a rapidly growing field in Bangladesh in recent times. The contribution of ICT in every sector of the country is trying to be addressed to improve the situation. This study is conducted by reviewing the studies in this line to suggest better policies to be formulated. The results show that ICT has excellent capabilities to alleviate poverty despite many challenges to be faced.
References
Abiodun, O. O., & Sunday, A. I. (2013). Poverty alleviation through information and communications technology: A case study of Nigeria. International journal of multidisciplinary sciences and engineering, 4(7), 20-24.

Bello, O. A., & Aderbigbe, F. M. (2014). The role of ICT in national development and poverty alleviation. Impact: International journal of research in Engineering & technology, 2(5), 275-284.

Bayes, A., Von Braun, J., & Akhter, R. (1999). Village pay phones and poverty reduction: Insights from a Grameen Bank initiative in Bangladesh (No. 8). ZEF Discussion Papers on Development Policy.

Chowdhury, M.S. A., Khan, M. M., & Akter, S. (2013). Corruption in Islamic Perspective and the Roles of Information and Communication Technology (ICT) to Control It. European Journal of Business and Management, 5(11), 36-43.

Dymond, A., & Oestmann, S. (2002). Rural telecommunications development in a liberalising environment: An update on universal access. Vancouver, BC: Intelecon Research & Consultancy

Heeks, R. (1999). Information and communication technologies, poverty and development. Development informatics working paper, (5).

Kenny, C. J. (2000). Expanding Internet access to the rural poor in Africa. Information Technology for Development, 9(1), 25-31.

Vitanen, A. K. (2005). The Role of ICT in Governing Rural Development, Paper presentation in the IFAD Workshop on the What are the Innovation Challenges for Rural Development, hold in Rome on 15 to 17, 11-14

Okello, G., Ouma, E., Maritim, K., & Adhiambo, M. (2014). The role of ICT in economic growth and poverty reduction. International Journal of Arts and Commerce, 3(3), 35-48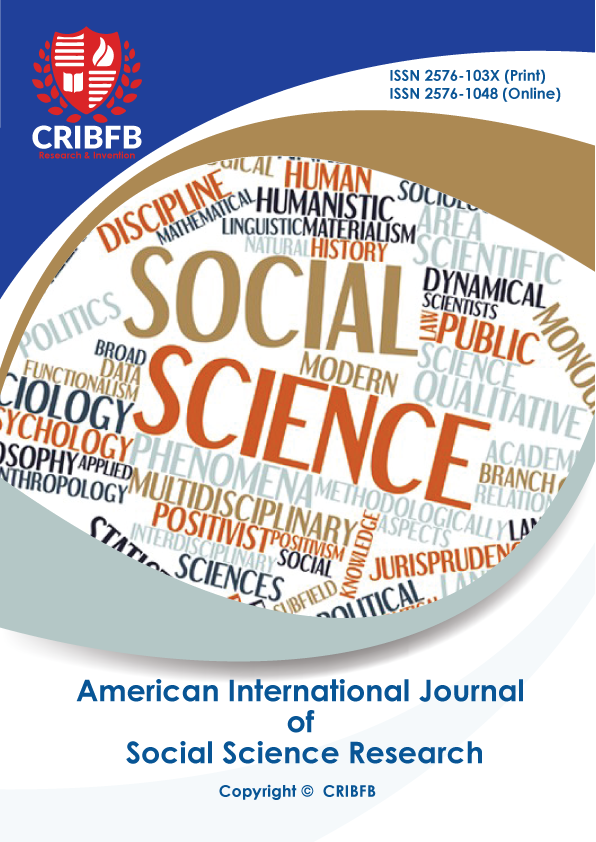 How to Cite
Chowdhury, M. S. A., Chowdhury, M. M., Chowdhury, N. J., Hossain, M. E., & Ahsan, S. M. H. (2021). THE ROLE OF INFORMATION AND COMMUNICATION TECHNOLOGY (ICT) TO ALLEVIATE POVERTY IN BANGLADESH. American International Journal of Social Science Research, 7(1), 8-14. https://doi.org/10.46281/aijssr.v7i1.1254
Section
Research Articles
Copyright (c) 2021 Md. Shahnur Azad Chowdhury, Mustafa Manir Chowdhury, Nazneen Jahan Chowdhury, Mohammad Emdad Hossain, Sayed Md. Hashib Ahsan
This work is licensed under a Creative Commons Attribution 4.0 International License.